For two pairs of bindings, click here: SNOW-1 (2 Pairs)
Analyze your snowboarding with the XON bindings and smartphone app
The SNOW-1 smart snowboard bindings are the first product in XON series. They can record, visualize and analyze your ride with real time tracking data displayed via the graphical UI of the XON smartphone app. Add a new dimension to your rides and improve your skills with XON SNOW-1.
Analyze your performance
You can connect the XON bindings to a smartphone easily via Bluetooth 4.0, real time tracking data is then visualized in the XON app. You can also get tips to improve your riding in real time.
Visualize your riding
Visualize your individual foot balance with four load sensors at the bottom of each foot. You can see how much your board is flexing with the two flex sensors placed at the head and tail of the snowboard, making it easy to practice ollies and nollies.
Built in LEDs
The XON bindings have bright LEDs built into the heel and toe, which will look impressive in your dusk riding videos and also allow other snowboarders to easily see you on the slopes.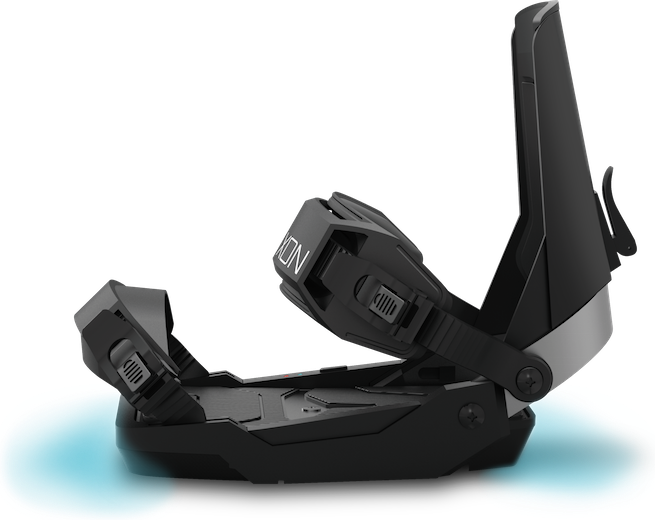 Guarantee
1 Year Guarantee
Specifications
Wireless connection

Bluetooth 4.0

Sensors

9-axis sensor(acceleration, angular velocity, geomagnetism)

Dual flex sensors

4 Pressure sensors per foot

LED
2 High luminance LEDs per foot
Dimensions
Approx. (mm)


W320 × D175 × H275

Weight
3.2kg (1 set)
Size

S (EUR 40.5-43,US 7.5-10,UK 7-9.5,JP 25 - 27cm)

M(EUR 42-45, US 9-12, UK 8.5-11.5, JP 26-28.5cm)

L(EUR 43-48,US 10.5-15,UK 9.5-14,JP 27.5-31cm)

Continuous operating time
7 hours (may change depending on temperature and LED activation duration)
Charging time
3 hours
Charging port
Micro USB
Waterproof
IPX4 Certified
Weight limit
100kg
Compatible smartphone
iPhone 5s/iPod Touch 5* or greater with iOS 8.4.1 or greater ( iPhone 6 or greater with iOS 9 or greater recommended)
*iPod Touch can not use route log due to lack of GPS function.
Shipping Cost:
Calculated at Checkout